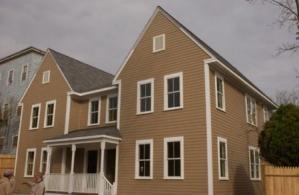 Project Name: Catherine Place
Project Location: Bristol, RI
Project Owner / Client: East Bay Community Development Corp.
Architect: Donald Powers Architects
Year: 2007
The demolition of a 7 unit deteriorated dwelling made way for 8 newly constructed units that consisted of a single family cottage, two duplexes and one triplex carefully placed on a quaint parcel of land. The construction began in April 2006 and completed in February 2007.