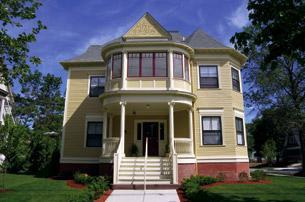 Project Name: Melrose Preservation
Project Location: Providence, RI
Project Owner / Client: Greater Elmwood Neighborhood Services
Architect: Durkee, Brown, Viveiros & Werenfels
Year: 2004
Our experience in architectural restoration is demonstrated in this project for Greater Elmwood Neighborhood Services. The effort focused on 14 buildings in this inner-city Providence, RI neighborhood, similar to the one pictured here. Exterior restorations were completed with attention to historic detail and accuracy, as shown in this front portico, for which dimension and species of lumber were duplicated from the original. Many interior architectural elements were also salvaged or preserved as part of the restoration, which, in combination with a newly built structure at 20 Sackett Street, resulted in the creation of ten single and multi-family homes.