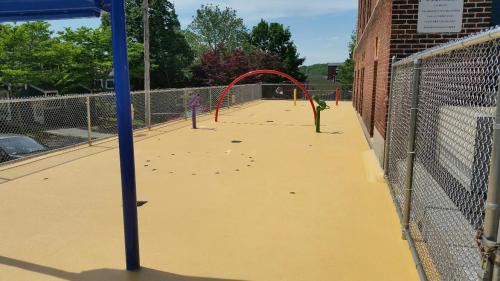 Project Name: Boys and Girls Club Splash Park
Project Location: Woonsocket Boys & Girls Club
Project Owner: Client: Woonsocket Boys & Girls Club
Engineer: Splash Zone LLC.
Project Manager: Don LaRose
Project Description: Install a splash park for summer camp
Year: 2015
NWC worked with Splash Zone LLC, an Arizona based splash park company to excavate the designated area in preparation for the water feature infrastructure which consisted of a multitude of water supply and drainage lines. A penetration was made thru the granite foundation in order to connect the supply lines to the new pump and filter assemblies. New electrical was required in the new pump room to power the multiple pumps, filters, chlorinators and timers. The recirculation tank installation proved to be challenging due to the tight site conditions and close proximity to the street. Once everything was in place the water fixtures were installed and the concrete poured and finished.