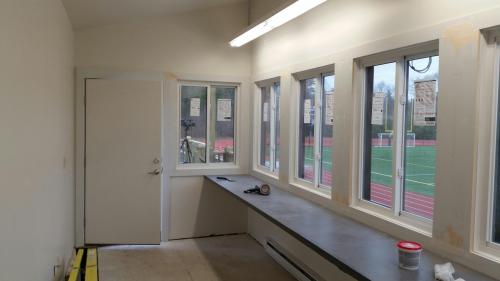 Project Name: Bryant University Press Box
Project Location: Bryant University
Project Owner / Client: Bryant University
Engineer: Geisser Engineering
Project Manager: Don LaRose
Project Description: Build a custom structure for the athletic department
Year: 2015
The athletic administration requested that an elevated outbuilding be constructed at the existing grandstand to facilitate filming and televising games for the NCAA. Nation Wide Construction worked closely with Bryant to finalize the details that would change several times before the final design was reached. The project started with a new structural concrete slab and provisions for underground electrical and data. The structure was to be elevated on wood timbers to facilitate a clear view of the field for the staff working inside. Metal siding and a raised seam metal roof were installed to match surrounding structures. Exterior speakers and a complete A/V package was installed inside to accommodate athletic department and media.