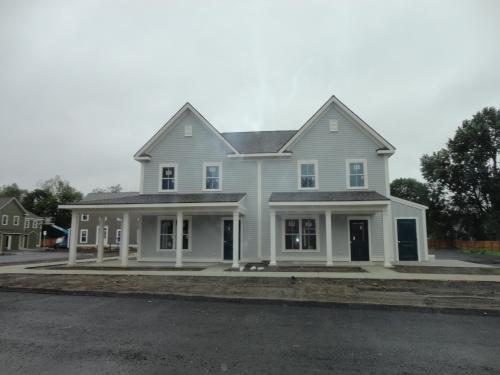 Project Name: Palmer Pointe
Project Location: Sowams Rd & Sweetbriar Rd Barrington, RI
Project Owner / Client: East Bay Community Development Corp (EBCDC)
Architect: Union Studio Architecture & Community Design
Engineer: Fuss & O'Neill; Yoder & Tidewell, Engineering Design Services
Project Manager: Peter Fiore
Project Description: Palmer Pointe Neighborhood Affordable Housing Development.
Year: 2018-2020
PROJECT DESCRIPTION INFORMATION:
Nation Wide Construction Corp, working in conjunction with East Bay Community Development Corp (owner) and the design team of Union Studio Architects, began work to create a new affordable housing development at the Palmer Pointe / Sweetbriar sites in 2018.
This project consists of the construction of 16 new buildings totaling 46 units in all dedicated to the preservation of affordable housing. The development consists of 40 rentals at the main site, a riverfront parcel of approximately 9 acres just off Sowams Rd as well as 3 new buildings to include 6 apartment units at the Sweetbriar site. We at Nation Wide Construction Corp consider it a privilege to have had a part in this beautifully designed housing community within the town of Barrington.
This project started in June of 2018 and completed in March 2020.
Project Team: East Bay Community Development Corp; RI Housing; Union Studio Architecture & Community Design; Yoder & Tidewell LTD; Fuss & O'Neill; Nation Wide Construction Corp